11 Fabulous Gift Ideas For Mother's Day To Fit Any Budget
by Lizzy Smith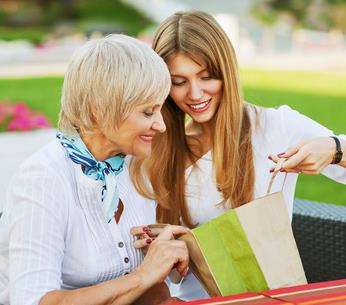 I have the most amazing mom on the planet and I'm lucky that we will be spending Mother's Day together. Gifts have never been our "big thing" but I always get her something memorable anyway. And since I became a mom, she is generous with me. But gifts aside, what makes the day special is that we spend it together-- me, my mom, my two daughters, and as many other family members that want to join in.
In addition to my mom, I always send a gift to my former mother-in-law and a few other close friends who I feel are in need of a pick-me-up. Usually these are friends whose children aren't with them or are feeling sad and alone. Since I live on a budget and I also want to do something thoughtful, this often requires that I put on my thinking cap. I brainstorm some ideas and go from there. I guarantee you can find something on this list to fit any budget or anyone on your gift list for Mother's Day.
1. Pedicure
Getting pedis together is a relaxing, fun and bonding experience. Especially with warmer temps ahead, now is a great time for a good foot scrub, massage, and bold color.
2. Baked Goods Or A Meal
Try a new recipe and take it to a special mom in your life. Cookies, bread, fresh seasonal fruits, soup or chili are all simple options. If she has children, take enough for all of them.
3. Free Childcare
Offer to give a mom with children an evening or afternoon to herself by watching her children for her. Take them out to do something fun, like to get ice cream, go to a public pool and swim, or even take in an afternoon matinee.
4. Beach Bag
Who doesn't need a fun beach or pool bag for the summer? They are available in a huge range of prices. If you still have money left, add things like sunscreen, a great novel, beach towel, sunglasses and flip flops.
5. Photo Session
Take your mom, grandmother or friend and go get professional photos taken. This can be really fun. If you're on a tight budget, places like Target or most shopping malls have professional photo studios that are very affordable. If you still have money left, purchase one of the photos and put it in a nice frame for her.
6. House Cleaning
Clean your mom or friend's home. You don't need to do an embarrassing deep scrub, but even dusting and vacuuming can be a huge help, especially for a frazzled or aging mom.
7. Slippers & Lotion
Put together a gift bag or basket that includes new slippers and a deliciously smelling lotion or soap. If you're on a tight budget, fuzzy socks will do.
Keep reading...