So here is my latest Divorced Moms column. I can expand a little on my blog. I did get lip filler injections. Last month, I Botoxed for the first time. I have heard that when you start doing this stuff, it's addicting. You like the results and you want to do one more thing, then another, and, well... Where do you stop? After Botox, I did want to get one more thing done. I wasn't even sure what, exactly. I can blame this desire on cancer. Why not? I like to blame EVERYTHING on cancer! I hate what it did to me. Actually, it was strange-- during chemo, though I was bald, I had the best skin ever and my wrinkles seemed non existent. But then the Dex took it's toll, eating away at muscle throughout my body and diminishing fast tissue and collagen in my face. Some people on Dex get "moon face", I got "falling face." The Botox gave me a much needed revamp. It was $11 per unit and the total cost was $550 and I need to do this every 3-4 months to keep it up. And I intend to!
I went back to Michelle and we chatted and decided I had 90-year old woman lips. No collagen at all. So she shot me up. It hurt. First she numbed me good like at a dental office. I'm on blood thinners because I take Dex, Velcade, birth control, and Thalidomide, which can all cause blood clots. So this made those injections bleed. Then I got the fillers and it bled and bruised some more. For the next several days, I was bruised and numb and it looked like I had a terrible allergic reaction to a bee sting. I felt exotic and I felt like I looked like someone else. Not sure I was liking it. Total cost was $575 and should last about seven months. These days, though, I think I like a lot!
So now what? I'd love to do a little fillers in my cheekbones but, really, I am 47 years old and I don't want to look like I'm trying to be 30 and my face is frozen and has had too much work. So I think that I'll keep up with what I've done and not add more, with the exception of facials and maybe a chemical peel or two.
Do I recommend it to others? Why not! If it makes you feel good about yourself, go for it. How is it different than coloring hair or wearing mascara?
Bee-sting lips
Better!
I also need to add another fun thing I've done recently with my whole "Why not?" motto. I posted on Facebook that I'm getting married! In my past marriage, I never posted that I was married or even in a relationship with Rob. There were no mentions of a husband and not a single photo on my entire Facebook account of a husband or a guy named Rob anywhere to be found. Why is that? I was in a volatile relationship that I wanted OUT OF. Why be proud of that marriage (or him, for that matter)? I found my marriage and my husband shameful and sad. I wanted desperately to pretend that I wasn't married at all. What a difference finding love and happiness, and being in a relationship I'm proud of. I've been posting on Facebook loads of photos with him in it for some time now. And I posted on Facebook when we got engaged. And yesterday, I figured out how to add "engaged" on my timeline. Fun! It's official, and I'm excited about it. Wedding is in October. Stay tuned!
In Park City at the Sundance Film Festival. So fun to be up there!
Anyway, here is my
Divorced Moms
article. Enjoy! Happy weekend, dear readers.
"Why Not?" This Motto Leads To Fun Life Adventures. Try It!
by Lizzy Smith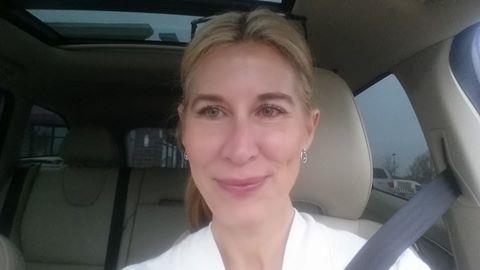 This photo is of me post lip fillers.
My focus in life changed in a single moment. I heard the words "you have cancer" and life as I knew it vanished. As the same time, I left my husband. I did chemo and divorce simultaneously. I was decimated to nothing and when the dust settled, it was time to rebuild, refocus and recharge my entire life. A new person was emerging and it was time to pick a new life's motto:
Why not?
So this question has, of late, led to some new adventures and experiences, of which I'm so grateful. They are...
Sex chat with my teen daughter
"Hey Mom, can I ask you some questions about sex?" my 14-year old daughter asked me just a few days ago.
Why not?
(Actually, when it came to this question, it was more of a "HELL YES!" answer.)
When raising children, are these types of conversations among the most important we will ever have with them? I have worked really hard to foster open communication with my daughters when it comes to all things "sex" related. So far, it's working because I really believe that my oldest feels really comfy having those talks with me and I think she's incredibly honest. (My youngest daughter, now nine-years old isn't interested in the topic at all yet.) It was almost 10pm, close to her bedtime but what was more important, sleep or The Talk? The Talk won out.
We got cozy on the couches in the living room and spent the next hour having a very frank discussion. She asked if I had sex before I got married, if I had ever had "horny" feelings for a guy, and what it meant to "feel horny." She has several boys who want her to be their girlfriend and, so far, she's declined them all, though she has several close guy-friends who talk to her about their feelings on sex all the time. She's not ready to "go there" herself (hooray!) and I explained that sex was for later, when she was older, relationship first, and to never confuse a boy who wanted sex with her and a boy who truly liked her. The two are separate.
Anyway, it was an amazing, bonding, fabulous conversation. I suppose we moms need to be ready for the time when our children need to talk to us. We need to put our phones away and listen. Because oftentimes our children need and want to talk with us but we're oblivious to it in our rush to do stuff and connect with others in the cyber world. I'm guilty of it, too. But at least this night, I hit it out of the proverbial ballpark with our chat.
Monster truck show
Years ago, I was living and working in Washington, DC and my close friend and colleague, Tia, went with her husband to a monster truck show. I thought it sounded like the most awful thing ever. Last month, my boyfriend mentioned it. He is not the "monster truck show" kind of guy but he said he's gone before and they were fun. He asked if I wanted to go and take the kids.
Why not?
I just picked up the tickets and we're going on Friday, February 13! My daughters are ecstatic.
Argentina-bound
Last month, I got a message from a former colleague. She was moving to Buenos Aires, Argentina for work. "I know you love to travel. Come visit me," she wrote.
Why not?
I called up my boyfriend. "Let's go to Argentina!" I said. And literally two days later, we purchased our plane tickets. We leave in four weeks. We are going for 10 days, which will include a side-trip for a few days to Montevideo, Uruguay to visit my aunt and uncle who live there. A new part of the world I've never visited.
Keep reading...