Looking for a great trip option if you have children? Cruising is not a bad choice. My latest via
Divorced Moms
...
Got kids? Cruising Is A Fab Vacation Option: The Pros & Cons
by Lizzy Smith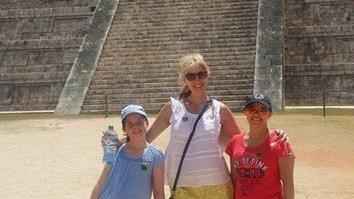 As I write this article, I am sitting on a cruise ship spending a ridiculous amount of money to use the Internet. It's my daughters' spring break and it was time to head for warmer temps and fewer responsibilities. We boarded the Princess Emerald after flying to Houston the day prior. Our first three days were at sea, followed by a day each in Roatan (Honduras), Belize City, and Cozumel (Mexico) respectively, followed by our last day at sea. We disembark tomorrow.
Going on a cruise is a great travel option, especially if you have children. But it's not for everyone. Here's the low-down:
PRO: It's affordable
Generally, you can find some incredible deals for cruising. The most expensive part is often flying to the departure port. I've seen prices go lower than $500 per person for a seven-day cruise, which, once you're on board, includes all your meals and most activities. Granted, those are usually for interior cabins (you have no windows), and that means you generally have no idea what time of day or night it is if you don't have a watch on. Once you're on the ship, you can keep it as cheap or pricey as you want, it all depends on you.
CON: It can be really expensive
Once you're on the ship, be very careful. Your costs can add up fast. Food and basic beverages are included, which means coffee, iced tea, water, and sometimes lemonade. If you want soda, beer, wine, spirits or coffee upgrades, it all costs more. On this trip, I purchased one soda card at $5 per day and one day, it's my older daughter's to use, and the next day, it's my younger daughter's. I also purchased a coffee card, which means that for an additional $35 I get 10 coffee beverages. You can also purchase alcohol cards, upgrade restaurants for better cuisine, go on tours, hit up the spa, take in shows or listen to live music, go dancing, and shop. Be extremely careful to turn off your phone while on the ship, or at least put it on airplane mode. Because if you don't, you're paying outrageous shipboard prices. Last year, we spent a week on a ship in the Mediterranean and I used my phone liberally to Facebook, text, make phone calls, and even blog. When I got home, my phone bill exceeded $1,200 for that week! I complained but all my phone company did was give me a $50 credit towards my next bill for my troubles. Never again!
PRO: Visiting lots of cool new places is easy
Ready for a sample of ports? Cruising is definitely for you! But if you love a port and want to spend a bit more time there, too bad, when it's time to get back on the ship, YOU ARE DONE. It makes it a bit of a cattle call. Everyone rapidly descends off the ship and then everyone gets back on. On this trip, we were absolutely not ready to leave Cozumel but too bad/so sad. Nonetheless, it gives you a great opportunity to quickly see places and you may just want to return to one of your favorites. It's how I discovered Split, Croatia. I never heard of Split before and now it's one of my favorite places on the planet. Thanks Norwegian Cruise Lines!
CON: If you love a destination, don't visit it on a cruise
If there's a port you really love, you will not enjoy the cruising visit very much. Generally, you never have enough time in any port. To see the best stuff, you often must buy a tour. And on tours, you can't veer (much) from what, when and how they are showing it to you. Cruise visits are highly structured so if you like exploring some place and doing it at your own pace, avoid cruising. When we visited Peter the Great's summer palace outside of St Petersburg, Russia and it was time to go, I wanted to cry. Oh well, get back on that bus!
PRO: There is a ton of stuff to keep kids busy
Every cruise I've ever been on has a Kids Club and Teen Club. That means you can drop your kids off for supervised activities mostly all day long and well into the evening. None of that costs extra (though expect to tip generously). That means you have plenty of adult time to nap, hit the casino or spa, or simply do anything you want.
Keep reading...