Divorced Mom Success Story: Meet Kerrie. Her Guest Post On Health
by Lizzy Smith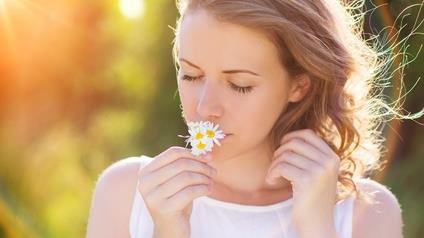 I love a good story about divorced moms moving forward in their lives in ways that they could not (or did not) do during their failing marriages. One such story is of my friend Kerrie. She was a stay at home wife and mom with three very young children. Her marriage was a tough one and they eventually split. All of a sudden, Kerrie found herself single, without a job, and wondering how she was going to support her family.
She enrolled in a local cosmetology school. That's how we met. At the time, I was completely bald, just having completed some very tough chemo treatments and two stem cell transplants to fight multiple myeloma. I was desperate to stimulate hair growth and I started going to a hair school near my home for scalp massages aimed at doing just that. I met Kelsey, who still does my hair today and is one of my favorite friends. My hair started growing back super curly and Kelsey, twice each week, would massage my scalp (yum!), and dry and flat iron my hair into submission. One of her fellow students was Kerrie. One day we started up a conversation, exchanged phone numbers, and started meeting up for coffee or lunch.
Kerrie graduated from school and decided she wanted to help others achieve health and wellness instead of doing hair. She had become passionate about alternative health methods in her quest to stay healthy, fight of illness, and heal emotionally. Today, she has her own office space and conducts wellness seminars. I'm so proud of her success.
So recently I asked her to write a guest post about health. Here it is. Enjoy!
Prevention is key to optimal health: It starts with sleep, nutrition & exercise
By Kerrie Percey (with Joni Luke)
I don't know about you, but if there is anything I do NOT have time for as a mom, it's being sick. I know from personal experience that life doesn't stop for us to recover, whether it be from illness, stress, or emotional trauma. We may feel fatigue, depression, and more but life continues and expectations and responsibilities never end. So many of us moms, especially we have children at home that depend on us, we have additional things to think about, like homework, science projects, dance lessons, sports…the list goes on. And if you're like me, none of those things are
yours
, they all belong to your kids.
But if we don't find time to take care of our needs first, it makes recovery, health, healing and fighting disease that much harder.
So then what can we do to stay on our toes? Prevent.
What if our bodies were able to avoid being acidic – which only leads to being even susceptible to disease and illness? What if we were getting a restful sleep
every
night? What would it feel like to have more of the energy we need to accomplish the most important things on our list?
Keep reading...