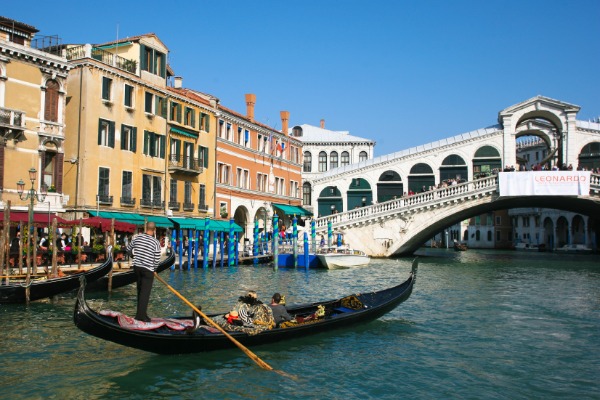 If you've been reading my blog, you know I'm leaving for Italy TOMORROW! And as part of this trip, I am technically taking a two week break from myeloma treatment. Well, sort of. I will still take thalidomide every night but I won't get the Velcade injection weekly, nor will I take any Dex. Yay, no Dex crashes and highs. As I write this, I am in clinic getting my Velcade. Then next week, I get a break, and the following week a break, and then we fly home on June 19 and I will be back in clinic on June 20 to pick up with Velcade. So I am missing two weeks of treatment, though we will be on travel for about three weeks.
My body needs these breaks. It's like it has a big time celebration when I take these breaks. These drugs are intense and they have saved my life. But taking breaks is a good thing. My body responds so beautifully to breaks. I will most likely experience my Dex crash in about two days (sometimes I skip it, sometimes the crash comes earlier or later), and then a week later, it's like I start feeling normal again. I mean, as "normal" as one can feel considering I still take Thalidomide, which lowers my immune system. I take it at night, though, so I sleep most of those side effects off. So as I ramble, the bottom line is that Breaks Are Necessary and Good in myeloma. And I am (almost) as excited to go to Italy as I am to saying NO to treatment for a bit.
...Which gets me to thinking about breaks and vacations. They are so necessary, both mentally and physically. This trip to Italy is One Big Break from:
-Routine
-My current life
By "My Current Life," I mean that I can not be defined by cancer, myeloma, divorce, or any of it. I write a ton about those topics because they are my platform, my story, and my passion. But getting away from all of that is a good thing. A mental and physical break. I won't have clinic appointments, injections, labs... none of it. My body will start responding accordingly. Instead of feeling 80 percent of my pre treatment self, I might start feeling closer to 90 percent. Seriously, I'm not even sure I remember what it felt like to be normal, it's been so long. And these breaks are part of the healing process. I come back renewed with vigor to fight some more and to carry on with my new life's mission. It's amazing that at the age of 44 I can completely and totally change focus. How radically different my life looks these days and, cancer aside, I like it so much better. To have a passion and a reason is a really cool thing. Not that I'm happy I got cancer. Oh, Lord, no, I don't with this on anyone. But I did and so I make the best of it.
I achieved a huge milestone last Thursday: Kelsey, my favorite hairstylist and very good friend, took out my last hair extensions! It's official: all my hair is all mine! It's been over two years since I had all my own hair at a length I am comfortable with. Brushing my hair the other day was just so... weird... and fabulous! I washed my hair and I had total poodle hair. The next morning, I flat ironed it and, hey, I look like the old me! I can do this.
Yesterday, in preparation of our trip, the girls and I enjoyed a spa day. It was super fun. Morgan got a wax and mani, Siena got a spa pedi, I got a spa pedi and wax, and I treated my mom to a full facial and wax. I love girl spa days!
And while we were at the spa, William and his brother hiked Timpanogos Cave. We did this same hike last summer and it is beautiful and strenuous. When they got out of the caves, they stumbled upon my greatest fear EVER-- a rattlesnake. So help me God, if I had been with them on that hike (and I was supposed to be) I would have had a heart attack. Instead, John challenged William to get really close to it. Oh my gosh. Snakes are my biggest fear. My biggest nightmare ever was about a month before I left my husband. In this dream, I was sitting in the back of my husband's old Honda CRV Rob was driving and I was where the dogs would have been, or groceries- the very back part of the car. And on the back seat was a rattlesnake, coiled up but with its head up and peering over the back seat staring at me. I was as scrunched up against the back corner of as possible, screaming: "Stop the car, let me out!" And Rob said, "Just relax, the snake won't hurt you." And just then, the snake calmly slithered over the back of the seat and started attacking me-- bam, bam, bam. And I started screaming: "STOP. LET ME OUT LET ME OUT!!!" as the snake kept attacking attacking attacking. And Rob kept driving, refusing to stop and let me out. There was nowhere for me to turn, all I could do was cover my head with my hands and arms as the snake kept attacking and I continued screaming. And I woke up, drenched in sweat, heart pounding. It was 4:00 AM. Unable to go back to sleep and in total horror, I got up, took a shower, and went to work early. All kinds of Freudian ways to interpret that dream!
Rattlesnakes aside, I will go back to my trip. The girls are packed, my clothes are packed, and when I get home from this appointment, I will pack up my "extras"-- the passports, meds, vitamins, essential oils, toiletries and makeup, flat iron, book (I'm reading Zealot, about the historical Jesus, and it is fascinating), and magazines (InStyle and Vanity Fair), and toothbrushes. A quick night's rest, and off we will go. The girls will go to school for all of 45 minutes and I'll get them out early and airport bound we are. The girls were never excited about this trip until Sunday when we packed them up together. For the first time, it set in that we are leaving. Morgan started screaming: "I can't believe we are going to Italy! Oh my gosh I am so excited!" It was so cute. Siena hasn't stopped talking since Sunday, bless her heart. Non stop chatterbox. I just hope she crashes and sleeps when we get on the plane because, Lord knows, she basically hasn't slept for several days and it's driving me bat crazy.
Last night, Morgan had another reason to be excited. She went to her eighth grade graduation dance and danced a lot with her Big Huge Crush. Now they are texting each other back and forth and she is just one very happy and excited girl. Oh, the joys of first time (perhaps reciprocated) crushes. That butterflies I can't eat or sleep feeling. It's so cute watching her glow, unable to concentrate on much. Last night, we laid in bed together while she talked and talked and showed me photos that her friends took of the two of them dancing and talking. She looked so pretty in a new dress we bought for her-- white with blue/white skirt, a fit and flair style. She curled her hair in beach wave tresses and she just looked adorable. My little tiny Russian girl is grown up and beautiful. I'm so proud of her. There are few things I love more than lying in bed with my girls and just chatting and listening to them talk. We don't do it often enough.
Ok, dear readers, I will blog if possible from Europe. I'm assuming my phone will work over there and I can post photos and short stories so hopefully you'll hear from me. My Big Break. My Big Vacation. My mental and physical respite.