Summer is THE BEST! Here are tips for creating a perfect road trip (from my experience). I wrote about it on Divorced Moms. Heat aside, make it great!
Road Trip! Summer Is A Perfect Time To Hit The Road
by Lizzy Smith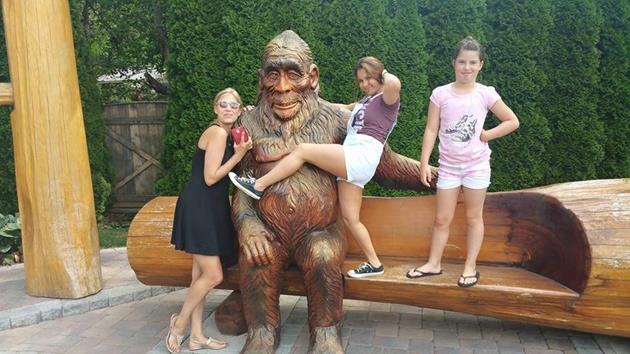 It's been a long time since I have planned a road trip. For one, I'm not a fan of sitting in a car for very long. And second, how to keep children entertained for long stretches? I'm not just referring to the four-hour drive to grandma's house, a place you have already been many times. You get in the car and race to your destination as quickly as possible. That is
not
a true road trip. Rather, I am describing a leisurely drive to somewhere new, where the entire point of the drive is to discover and explore points along the way. Now
that
is a road trip, and one in which you ought to consider planning for you and the kiddos. In fact, I am on a road trip as I write this article and you know what? It has been fabulous.
We left home a week ago and drove from Salt Lake City to Seattle. This is a 13-hour drive but we divided it in half, spending the first night in the adorable town of Pendleton, Oregon. The next day, we took our time making our way into the city. We stopped at Snoqualmie Falls and hiked down to the waterfalls. It was really hot but the cool water that awaited us was more than worth it. We got lunch in town, one of the most picturesque places on the planet. We stopped at a raspberry farm and picked our own fresh fruit and purchased locally-produced marinades and dressings. Discovery is so fun.
The next day, we took a ferry to Victoria, Canada (thank goodness I remembered to bring our passports). We spent the next two days meandering the beautiful city, walking around Butchart Gardens, and eating grilled corn on the cob and organic fresh lemonade. We napped, went swimming, and watched street performers well into the evening. The weather was spectacular.
Next stop was Vancouver for a day, then on to Harrison Hot Springs, located right on the edge of a pristine lake. We soaked in hot springs and went for long walks.
For the next five days, we are in Seattle before heading home. We haven't been bored, nor have we done too much. It's been a near perfect trip so far and the kids haven't once complained. While they are well traveled, they have never been to the Pacific Northwest or Canada, so this is a very new experience for them.
Road trips are great for bonding, which is just what the doctor ordered. There are fewer distractions and it's a fantastic time to talk. And it's possible to build a perfect trip around almost any budget or timeframe. Here are tips that have made this road trip so great for us. I think they are mostly universal so here goes:
1. Build time
Build in extra time during your trip so you feel free to pull over when you see something interesting. Three years ago, we drove from Salt Lake City to Denver. On our way back, we could see phenomenal red rock formations off the side of the road near Moab. "Mom, let's stop!" my then 12-year old daughter said. This was not our plan but without thinking, I quickly pulled off at the exit and called Priceline, securing what I believe was the last hotel room available in the town. That evening, we walked the main street and got dinner. The next day, we hiked the Arches. it was one of the most amazing places I've ever been. What a shame if we had missed it in favor of racing home. Plan extra time in your road trip to stop at places along the way. You never know where a road trip might take you, and that is a great thing.
2. Be flexible
Allow for your plans to change at the last minute. Try not to over schedule your trip so you can't explore the unexpected if you want. You never know-- you may love a place so much that you aren't ready to leave as scheduled. With a road trip, this should be perfectly ok.
Keep reading...