My latest on
Divorced Moms
! With a few smart options, no matter where you're going, you can be stylish. I love the holidays and I love dressing up. So fun.
What To Wear? 3 Outfits To Get You Through The Holidays In Style
by Lizzy Smith
The holidays means lots of opportunities to get out and about. From the company Holiday party, to your child's choir performance, to church Christmas gatherings, to your friends' cookie exchange, to New Year's Eve... But the Big Question is always what to wear. But with a three outfits in your closet, you'll be stylish at every event.
Dressy
For events that are dressier, like a company holiday party or New Years Eve gala, the LBD is an essential wardrobe staple. You can literally wear it during any time of year and at a variety of functions. So if you don't have a great black dress yet, spending the money on one is a good investment. I just bought this dress at White House Black (
www.whitehouseblackmarket.com
) for just $130. It's really fun and festive, and a little unexpected with the fringe.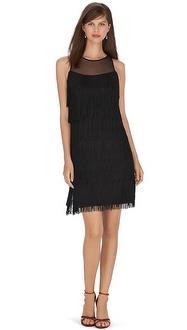 Another fun option is a black flair skirt with a party top. My cousin just purchased this skirt at Express (
www.express.com
) on sale for $39.95.
Keep reading...