I am seriously overwhelmed by gifts this year. With Thanksgiving coming late, getting the flu, and going to San Francisco, I am so behind schedule! William and I did some serious shopping yesterday and that's just the tip of the iceberg. Anyhow, some ideas for inexpensive Holiday gifts via
Divorced Moms
.
Gift Buying Crunch Time: 12 Gift Ideas Under $15
by Lizzy Smith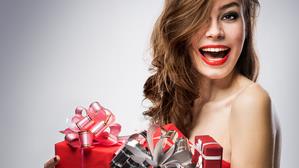 It is serious holiday crunch time when it comes to purchasing gifts. Just yesterday, I looked at my calendar and almost had a heart attack. In the next week alone, I have five Christmas parties, one anniversary party, my last hair appointment of the year (so my one and only opportunity to gift Kelsie), the last day of school for my children (time to gift their teachers), my daughter's last soccer practice, my other daughter's last sewing class, and my final infusion appointment of the year (I'm a cancer survivor and go to clinic once per week for maintenance therapy; my nursing team are my angels and I remember them every holiday season). I needed to do some serious shopping yesterday to load up on gifts, lots of gifts. But I'm also on a serious budget. Finding fun and appropriate options under $10 isn't always easy. It took some time, but I picked up some great items, and you can follow suit.
1. Extra Virgin Olive Oil - $8 at Ross
I found an aged EVO in a beautiful black canister. It's perfect for a holiday gift exchange or a hostess gift.
2. Balsamic Vinegar - $10 at Ross
The balsamic vinegar also came in the same black canister as the EVO I mentioned above. You can gift it to a hostess together with the EVO or gift it separately. As one who loves to cook, I'd absolutely love ending up with this one!
3. Photo Frame - $10 at TJ Max
A simple 8x10 photo frame with mat is a perfect gift option for anyone on your list. You can find frames anywhere, but I prefer looking at the discounters, like TJ Max, Ross, Neiman Marcus Last Call and Off Saks because the frames are deeply discounted and generally a higher quality for the price.
Keep reading...