Can we handle another skydiving story? This one is for my audience at
Divorced Moms
.
How To Celebrate Really Awful News? Go Skydiving
by Lizzy Smith for Divorced Moms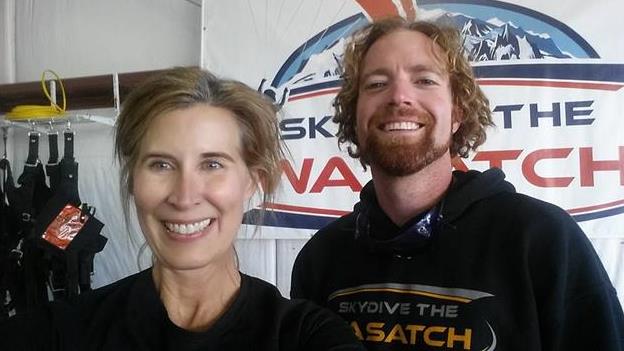 I am a cancer survivor (multiple myeloma, a blood cancer). I was diagnosed in January 2012 and, as part of my treatment, had two auto stem cell transplants. These are not fun or simple procedures, I assure you. They involve too much chemo, hair loss, and, well, you get the picture. I got into remission for three years but it came back. Managed by a plethora of drugs over the past year, my doctors have determined that it is time for another stem cell transplant to bring my numbers back down. I'm ok with it. I'm doing well, I'm confident and know that I will beat this again. Myeloma is manageable, thank goodness, but it's a long road of treatments and more.
I decided long ago that my approach to life is survivorship, warrior-status all the way. When I was first diagnosed with myeloma, I had a decision to make: 1) let this devastating news defeat me by staying with my abusive husband, allow myself to continue being bullied by him, and expose my children to a really unhealthy home environment surrounded by alcoholism; 2) beat it, kick, it, survive it, and craft a new life. I chose to do something Big, Bold and NEW. To find, purpose, love, passion, and joy. And I've worked really hard in doing just that. Since my initial diagnosis, I've done some really cool stuff: I got a divorce, found new love, remarried, helped launch www.myelomacrowd.org (a fabulous site for myeloma survivors and we are working on funding curative clinical trials), traveled to Europe twice, South America once, gone on a few cruises and road trips and so much more. Life is better, cancer aside, than it ever was before.
So I live as big as I possibly can. In addition to my entering into another transplant, my 48th birthday is coming up on Friday. Last year, I went paragliding to celebrate. This year, it was time to take it up a notch. In addition to wanting to do something GRAND as I headed into "u-fun" treatment, I wanted to celebrate another year of life on this planet. It was time to cross something off of my Bucket List. I chose to go skydiving.