My latest on
Divorced Moms
. And now we are heading to Seattle in just a few hours. Yay!
43 Fun Things To Do With Your Kids This Summer (Fits Any Budget)
by Lizzy Smith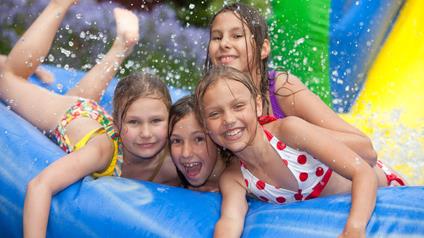 1. Vacation
Whatever fits your budget, go away for several days or longer. Whether it's a cruise, a trip to abroad, or a drive to visit the grandparents a few hours away, go! Instead of buying a lot of "stuff," take loads of photos and make them a photo book as a keepsake. When we go on vacations, I buy my daughters a magnet for their magnet board. They are inexpensive (usually between $4-$8) and it's a fun, simple way to track all the places they have been.
2. Water park
Don't forget an umbrella and loads of sunscreen. I actually find waterparks relaxing. While the girls are playing, I'm catching up on my reading. If you can, put your phone away and take the time to yourself with few distractions.
3. Town festival
Many towns host a summer festival. Oftentimes, many of the activities are free or reasonably priced and can include concerts, carnivals, games, and many local food options.
4. Local rodeo
I've never actually been to a rodeo, though I grew up in a town that had many. My daughters are begging to go to one. This summer, I'm really going to try to get them there. Why not?
5. Horseback riding
A huge bonus? You'll probably discover a trail that you never knew existed. Schedule your rides in the early morning or late evening if it's hot where you are at.
6. Free splash pads (generally found at malls and parks)
What child doesn't love to run in water when it is super hot outside and there are loads of kids around? Splash pads are a great way to entertain the little ones, spend no money, and keep them happy (and get them tired!).
7. Fair or carnival
I love the displays and shopping at the larger county fairs, the kids love to hit up the rides and games. Plus, there is usually interesting food to try (even if some are heart attack inducing). Fairs are perfect for the whole family, regardless of age, though they can be extremely pricey, so be prepared to spend.
8. Amusement park
Lagoon is our big amusement park and my daughters look forward to going every summer. We also have an annual pass to Knott's Berry Farm in Southern California because we visit there so often.
9. 5k walk
Stay in shape and support a good cause. Organized races are really fun. If you have really small children, put them in a stroller. Typically, most walks or runs also have an organized 1k run for the little ones.
10. University campus
Why not explore a local university or college campus and get some lunch in the cafeteria? Your children will start getting a "feel" for what a college campus feels like when it's not as crowded and finding parking is easier.
11. Learn a little about a new culture then go out to eat somewhere new from that culture
One of my favorite restaurants in Salt Lake City is Mazza, a Middle Eastern restaurant. I think we'll start with that one. You need not spend too much time on learning about the culture. Maybe even discuss facts while in the car on your way out to eat. It's a great way to learn something new.
12. Hot springs or other outdoor "find"
Go online and discover a new outdoor area you've never been to. A friend and her boyfriend just went to an outdoor hot springs. It included a 30-minute walk down a dirt trail and ended with soaking in outdoor hot springs. She said it was simply awesome. They went in the evening when it wasn't so hot. Likely there are interesting and unique places around you, too. Go on-line or ask friends for suggestions.
13. Hike
Discover a new trail. Consider going early in the morning or late in the evening. Wear good shoes, sunscreen, bug spray and watch for snakes! Next on tap for us is Timpanogos Caves. I've hiked this several times but my daughter's haven't. It includes a rigorous steep hike and ends at phenomenal caves. It's truly spectacular and the hike is a great work-out. I'll probably treat them to lunch afterwards at Sundance Ski resort. I love hiking. I think it's great to expose children to the outdoors, discover new and beautiful places, and get them away from TVs and cell phones.
14. Day camping
Do everything you would normally do if you were camping but you get to go home at night to sleep. It requires a whole lot less prep and planning, too! Of course if it's your "thing" and you have the equipment, stay the night at the campground.
15. Swim in a local lake
Take blow-up rafts and lunch to add to your fun.
16. Visit the mountains or beach
Take food and barbeque.
17. Visit a local museum
I'll bet there is a museum you haven't been to right in your own town. Stop and visit one. You'll learn something new and so will our kids.
18. Matinee binge
Sometimes when it's hot outside, nothing sounds better than sitting in a cool dark theatre and taking in several movies while eating popcorn. No guilt.
Keep reading...